Book Club: Subversive Southerner: Anne Braden and the Struggle for Racial Justice in the Cold War South
1/18/2024
4:30 PM - 5:30 PM Eastern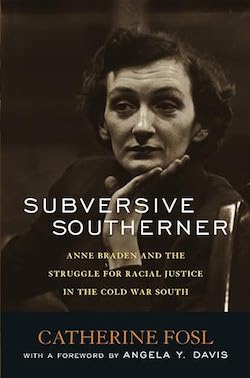 Book club is held via zoom. The zoom link is sent to regulars each month.
If you'd like to try book club out, send an email to vote411@lwv-rma.org and ask to be added to the book club mailing list.
Anne McCarty Braden (1924–2006) rejected her segregationist, privileged past to become one of the civil rights movement's staunchest white allies. In 1954 she was charged with sedition by McCarthy-style politicians who played on fears of communism to preserve southern segregation. Though Braden remained controversial―even within the civil rights movement―in 1963 she became one of only five white southerners whose contributions to the movement were commended by Rev. Martin Luther King Jr. in his famed "Letter from Birmingham Jail." Braden's activism ultimately spanned nearly six decades, making her one of the most enduring white voices against racism in modern U.S. history. Subversive Southerner is more than a riveting biography of an extraordinary southern white woman; it is also a social history of how racism, sexism, and anticommunism intertwined in the twentieth-century South as ripples from the Cold War divided the emerging civil rights movement.
return to League of Women Voters of Rochester Metro Area